Bias Current Test System Model 11300
Chroma 11300 bias current test system is an integration test system of LCR Meter and Bias Current Source.
It consists of Chroma 3252/3302 series Automatic Component Analyzer and Chroma 1320 series Bias Current Source. The Chroma 1320 series bias current source output can be controlled by Chroma 3252/3302 LCR meter directly. The bias current output capacity can be selected up to 100A to satisfy various testing in R&D, QC, QA, and production applications.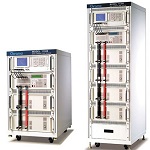 Key Features:
High efficiency, forward / reverse current switching capability and sweep function
High stability, frequency response from 20Hz to 1MHz
High accuracy, 3% output current accuracy
Expansion capabilities, up to 100A
Vertical design, easy to maintain
Flexible modular test system
Multi-channel intakes in the front panel of rack and multi-fans exhausts in the back of rack
Multi-function four terminal test fixture
Low ESR ( < 10m ohm) design for connecters between bias current sources
Windows® based software
Up to 300A by customization