Keithley Optical SourceMeter Instruments
Keithley instrumentation makes it easy to build a LIV (light-current-voltage) system to test laser diode modules cost-effectively.
Fiber Alignment Photodiode Meter 2502: High speed analog output enables LIV testing at the fiber alignment stage.
Pulse Laser Diode Test System with optional Integrating Sphere 2520/KIT1: Synchronizing test system providing sourcing and measurement capability for pulsed and continuous LIV test.
NOTE: This product cannot ship to EU countries.
TEC SourceMeter SMUs, 2510 and 2510-AT: Ensure tight temperature control for laser diode modules by controlling its thermo-electric cooler.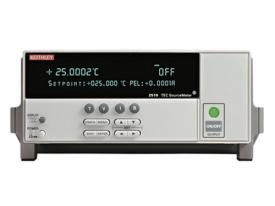 Keithley Optical SourceMeter Instruments
Features
Active temperature control
50W TEC Controller
Fully digital P-I-D control
Autotuning capability for the thermal control loop (2510-AT)
Wide temperature setpoint range (–50°C to +225°C) and high setpoint resolution (±0.001°C) and stability (±0.005°C)
Compatible with a variety of temperature sensor inputs—thermistors, RTDs, and IC sensors
AC Ohms measurement function
4-wire open/short lead detection for thermal feedback element