Low Voltage Differential Probes
Differential signaling used in high speed serial standards requires very accurate characterization. The industry-leading bandwidth and signal fidelity found in a Tektronix low voltage differential probe ensures that you see every possible detail. Tektronix offers TriMode™ architecture which streamlines measurement acquisition by enabling you to make differential, single-ended, and common mode measurements with a single connection!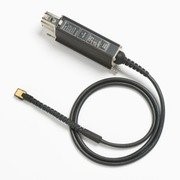 Low Voltage Differential Probes
Key performance specifications
10 μV/div sensitivity
Typically 100 dB CMRR DC to 10 kHz
Key features
Active differential preamplifier
Integral probe power with TEKPROBE™ BNC
Connectivity
The ADA400A is powered directly from TDS400, TDS500, TDS600, TDS700, TDS5000, TDS7000 (TEKPROBE), TDS7000 (TekConnect) w/ TCA-1MEG Series oscilloscopes.
The ADA400A may also be powered by a 1103 Probe Power Supply.
Applications
Mechanical analysis
Audio design
Biomedical research (not certified for patient connection)
Medical equipment (not certified for patient connection)