ME7838A VectorStar Broadband VNA ME7838A/E/D/G
The VectorStar ME7838 broadband series system provides high performance in a compact mmWave module utilizing the Anritsu Nonlinear Transmission Line (NLTL) technology, with system coverage from 70 kHz to 110, 125, 145, and 220 GHz. The ME7838 series is the only broadband system with positive raw directivity in multiple bands. The result is better calibration and measurement stability with significantly longer time between calibrations for accurate measurements and improved productivity.
The VectorStar ME7838 VNA series delivers 109 dB dynamic range at 110 GHz, 102 dB at 220 GHz and excellent noise floor performance for high-sensitivity measurements across the entire sweep range. Stable broadband performance means you can make high-accuracy measurements all day, with the confidence that your calibration remains rock solid! Spend less time calibrating and more time measuring.
The VectorStar ME7838G VNA addresses the market need to conduct on-wafer measurements that span into the sub-Terahertz region for more accurate device characterization. The system offers unprecedented broadband coverage from 70 kHz to 220 GHz in a single sweep and is optimized for on-wafer measurements utilizing the TITAN T220 probe from MPI. An innovative design allows the 220 GHz probe to connect directly to the mmWave module for accurate, stable on-wafer measurements and avoiding the limits of threaded connectors. For more information on the TITAN T220 probe including specifications and data sheet please visit the MPI website.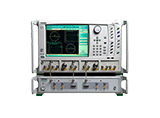 ME7838A VectorStar Broadband VNA ME7838A/E/D/G
Features
The VectorStar ME7838 Series broadband VNA offers the widest available single frequency sweep from 70 kHz to 110, 125, and 145 GHz with mmWave bands to 1.1 THz.
The ME7838A or E version can easily be upgraded to 145 GHz
All versions may be configured to include banded millimeter-wave modules up to 1.1 THz
Industry-best calibration and measurement stability: 0.1 dB vs 0.6 dB over 24 hrs.
All versions support the 3744x-Rx receiver for noise figure measurements, including the ability to characterize differential noise figure, to 125 GHz
Compact, lightweight mmWave modules (0.6 lb vs 7+ lbs and 1/50 the volume) offer low cost installation on smaller probe stations.