MS2760A Spectrum Master MS276xA family of ultraportable Spectrum Analyzers
Ultra-portable. Ultra-broadband. The Spectrum Master™ MS276xA family of ultraportable spectrum analyzers is the first solution of its kind to provide continuous coverage to 170 GHz. This family now offers:
The Spectrum Master MS2760A models: providing full broadband coverage from 9 kHz to 170 GHz with excellent dynamic range and DANL performance.
The Spectrum Master MS2762A models: providing increased dynamic range and DANL performance than the Spectrum Master MS2760A models for the most demanding sensitivity requirements, these units frequency coverage range is from 6 GHz to 170 GHz.
The Spectrum Master MS276xA family are all USB-powered and controlled from a Windows-based PC, laptop, or tablet, making them uniquely flexible for use in the lab, on the manufacturing floor, or even in the field.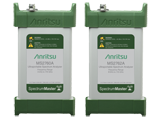 MS2760A Spectrum Master MS276xA family of ultraportable Spectrum Analyzers
Features
First portable spectrum analyzer to provide continuous frequency coverage to 170 GHz
Broadband mmWave capabilities for radio astronomy, automotive radar, wireless backhaul, 802.11ad, satcom, and more
Ultraportable form factor enables measurements right at the device under test
Measure: channel power, adjacent channel power, occupied bandwidth
Patented NLTL technology provides > 100 dB dynamic range
-141/-136/-129/-122 dBm DANL to 90/110/145/170 GHz ( Spectrum Master MS2762A)
Up to 6 traces, 3 trace detectors, and 12 markers
Standard three-year warranty