MS2830A Spectrum Analyzer/Signal Analyzer
Anritsu's MS2830A Spectrum/Signal Analyzer with optional built-in vector signal generator (VSG) is a flexible, compact one-box Tx and Rx test solution. It supports most common digital and analog technologies used in Cellular, Land Mobile Radio/Public Safety Radio and IoT/M2M wireless communications. MS2830A's unique Capture & Playback functionality allows enables the user to capture real world signals in the field and then recreate them in the lab or on the production line.
The MS2830A offers the performance and measurement speed of a high-end test instrument for the price of a mid-range instrument. Features include:
Best-of-class dynamic range and total level accuracy minimize measurement uncertainty and maximize production yield
Wide variety of built-in measurement functions, including channel power, occupied bandwidth, adjacent channel leakage power, spurious emissions, and much more
Option MS2830A-066 greatly improves phase noise for signals below 3.6 GHz, enabling unmatched performance for the most challenging narrowband adjacent channel leakage power and spurious emissions tests
Optional wideband vector signal analysis enables frequency vs. time, phase vs. time, spectrogram, and CCDF measurements
Supports comprehensive vector modulation analysis of proprietary and standard wireless communications signals, including 3GPP LTE/LTE-Advanced, UMTS W-CDMA, EDGE, GSM, cdma2000, IEEE 802.11a/b/g/j/n/p/ac, Bluetooth, ZigBee, P25 Phase 1 & 2, DMR, NXDN and ITU-R Positive Train Control
Optional integrated vector signal generator produces continuous wave and I/Q modulated signals to support Tx and Rx testing
Option MS2830A-018 Audio Analyzer enables complete Tx and Rx testing for analog radios, eliminating the need for a dedicated instrument
Option MS2830A-017 Noise Figure Measurement Function and MS2830A-008 Preamplifier enable precise noise figure measurements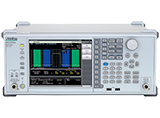 MS2830A Spectrum Analyzer/Signal Analyzer
Features
Top-class spectrum analyzer measurement speed
Provides ±0.3dB (typ.) total level accuracy
Best-in-class dynamic range
Spectrum analyzer supporting built-in vector signal generator, analog signal generator, audio analyzer and modulation analysis (options)
Offers modulation analysis, such as LTE/LTE-Advanced (FDD/TDD), WLAN IEEE802.11a/11b/11g/11j/11n/11p/11ac and FM/ΦM/AM (with optional software)
Noise Figure, BER and Transmission Characteristics measurement (options)
Excellent eco-friendly product with low power consumption of 110 VA min.
Related Products: 26.5 GHz/43 GHz Models