MS4640B Series VectorStar Family of RF, µW, mmW VNAs
The VectorStar™ family is Anritsu's Premium VNA line, providing the highest overall performance on a modern platform. The MS4640B VectorStar VNA offers the broadest coverage in a single instrument, 70 kHz to 70 GHz. The additional two decades at the low end are even more impressive than the guaranteed 70 GHz coverage on the high end.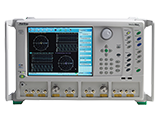 MS4640B Series VectorStar Family of RF, µW, mmW VNAs
Features
Broadest frequency span from a single coaxial test port covering 70 kHz to 70 GHz in a single instrument and 70 kHz to 145 GHz in the Broadband configuration. Extendable to 1.1 THz
Universal Fixture Extraction (UFX) software option provides advanced de-embedding tools for test fixture extraction.
IMDView™ software coupled with the internal combiner option offers the ability to switch from S parameters to IMD measurements in a single connection
Highest performance pulse measurements— PulseView™ offers 2.5 ns pulse resolution with 100 dB dynamic range
4-port single-ended or balanced measurements using DifferentialView™ analysis
Internal trace-based eye diagram option provides the ability to display Time Domain, S-Parameters, and Eye Diagram analysis with active sweep updates
Superior Dynamic Range - up to 142 dB
High available power - up to +14 dBm
Best test port characteristic performance - up to 50 dB in Directivity
Best time domain analysis
Fast and accurate optoelectronic measurements from 70 kHz to 40, 70 GHz and 110 GHz, at 850, 1060, 1310 and 1550 nm wavelengths, using MN4765B O/E Calibration module
Vectorstar User Site
The VectorStar Users Site is a location where you can obtain Software, O/S Patches, and needed Utilities for your VectorStar instruments.
AWR Connected™ to Anritsu VectorStar
Anritsu's VectorStar Vector Network Analyzer (VNA) uniquely combines design and measurement by including NI AWR Design Environment™ software as a standard feature within the instrument, as a separate application on your desktop.
You now have access to all of the design tools essential for high-frequency IC, PCB, and module design at your fingertips, right on your VNA, including:
Linear circuit simulators
Electromagnetic (EM) analysis tools
Integrated schematic and layout
The integration of high-frequency design tools within high-performance VNAs is the way of the future - but it's available today, only from Anritsu and AWR.