MS46524B ShockLine™ 4-Port Performance VNA
The ShockLine™ MS46524B series are 4-port performance vector network analyzers (VNAs). Delivering an unprecedented level of value and performance in a multiport VNA, this series lowers the cost-of-test and speeds time-to-market in numerous test applications up to 43.5 GHz. These include: characterizing and manufacturing multiport mobile network devices and equipment for 28 GHz and 39 GHz 5G applications; differential cables; high-speed data interconnects; and system integration components.
The ShockLine MS46524B series, configured with Options 10, 20, or 43, brings RF to microwave frequency capabilities to this family. These frequency options, combined with powerful shockline software, provide a cost-effective solution for the most challenging, passive device testing.
For applications requiring time domain analysis, Options 2 and 22 are available. Option 2 enables the ShockLine MS46524B to provide differential and mixed-mode real-time bandpass and lowpass time domain functionality. Lowpass time domain enables a TDR-like display with capability of showing real impedance over distance or time. Option 22 equips the ShockLine MS46524B with file-based signal integrity (SI) tools for debugging multiport SI issues and validating circuit models.
The 8.5 GHz MS46524B VNA model has an additional bias tee option available, option 61, which allows the user to provide DC power for biasing devices while testing.
The ShockLine MS46524B series comes in a 3U high chassis and uses the same GUI, software, command syntax, drivers, and programming environments as the rest of the ShockLine family.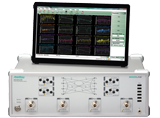 MS46524B ShockLine™ 4-Port Performance VNA
Features
Specified performance to 43.5 GHz with Extended K™ ports
Simple signal integrity testing of passive multiport and differential devices
Advanced time domain option provides tools for signal integrity analysis
Wide dynamic range enables measurement of very low reflection artifacts
Excellent corrected directivity minimizes measurement uncertainty
SmartCal™ auto calibration unit reduces calibration and setup time
Time domain with time gating option enables TDR-like measurements
Modern LAN interface for remote control is faster than GPIB
A common GUI and SCPI interface within the ShockLine family
The compact 3U high chassis allows for the efficient use of rack space
Bias tee option simplifies test setups where the DUT needs DC biasing
Universal Fixture Extraction (UFX) software option provides advanced de-embedding tools for test fixture extraction
Applications
Differential Devices
Automotive
RF (FAKRA) connectors
Driver assistance radar
Mobile
UE – micro coaxial RF connectors
UE – antennas, switches, diplexers
5G network components
General Purpose
Passive Device Testing
Connectors
Cables
Electromechanical
Switches
Attenuators
Couplers
Filters
Isolators
Circulators
Radar connectors
Near-field and far-field antenna measurements
System Integration Applications
System calibration
Differential path-loss characterization
General multi-port s-parameter and time domain measurements
Simple Active Applications
Amplifier characterization
Wireless Power Transfer Applications
KQ product
Maximum efficiency
Optical to Electrical, Electrical to Optical, and Optical to Optical Applications
Photo receiver
Laser modulator
Optical transceiver