Partial Discharge Tester Model 19501-K/19500 Series
Chroma 19501-K Partial Discharge Tester combines Hipot test and PD (Partial Discharge) detector functions in one instrument. The device is capable of a maximum 10kV AC output with leakage current measurement range of 0.01uA to 300uA and a minimum Partial Discharge detection of 1pC. The tester is specifically developed to test high voltage semiconductor components and high insulation materials. The 19501-K design meets the IEC 60270-1 and IEC 60747-5-5 standards, and has built-in IEC 60747-5-5 test methods for use. It not only satisfies the production test requirements for opto-coupler products, but also gives users a friendly and convenient operation interface.
When performing Hipot test on the production line, a poor connection between DUT and test circuit, will cause the test to fail or bypassed. Therefore, it is very important to ensure the connection between the DUT and test circuit is in good condition before testing. For high-insulation components, HVCC (High Voltage Contact Check) function utilizes Kelvin test method to perform contact inspections simultaneously with Hipot test to improve the test reliability and efficiency.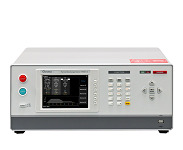 Key Features:
Built-in Hipot test and PD detector function in one instrument
Programmable voltage output: 0.1KVac ~ 10KVac
High accuracy and resolution current meter: 0.01uA ~ 300uA
PD (Partial Discharge) detection range: 1 pC ~ 2000 pC
High Voltage Contact Check function (HVCC)
IEC60747-5-5 and IEC 60270-1 Standard compliant
Built-in IEC60747-5-5 test methods
3 stages of voltage test function
Digital display for PD test results [pC]
PD defect occurrence setting for judgment (1~10)
Graphical editing function
USB screen capture function
English and Simplified Chinese/Traditional Chinese operating interface
Standard USB, LAN, RS-232 & Handler Interface