Passive Probe
Passive voltage probes ship standard with most oscilloscopes and provide a low cost, general purpose probing solution. Generally, these probes lack the performance of an active voltage probe but provide the ruggedness and wide dynamic range suitable for visualizing signals over a broad range of applications. Tektronix has released a new class of passive probes that redefine performance in the passive probe product category.
Tektronix new class of passive probe solutions offer:
Best-in-class bandwidth up to 1 GHz
Best-in-class input capacitance as low as 3.9 pF which minimizes probe loading effects
Best-in-class input capacitance which minimizes performance loss when long ground leads are attached
Automated probe compensation eliminating the need for the compensation screwdriver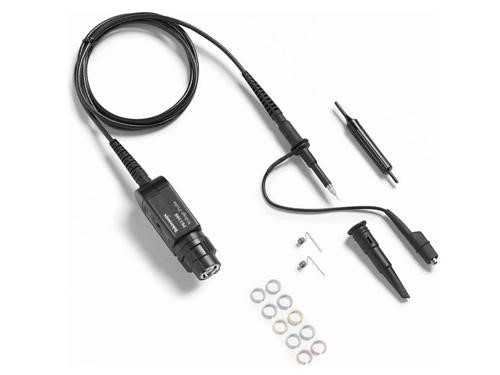 Passive Probe
TPP0051 Passive Voltage Probe
The TPP0051 probe is for use on BNC oscilloscopes with 1 MΩ/20 pF inputs.
Key performance specifications
10X attenuation
50 MHz bandwidth
1.3 m length
UL61010-031; 2007, CAN/CSA C22.2 No. 61010-031-07, IEC61010-031; IEC 61010-031/A1:2008
Applications
Low-frequency measurements
Low-frequency computer and telecom measurements
Power supplies
Low-frequency amplifiers