Programmable AC Power Source Model 61600 Series
Chroma AC Power Source 61600 series is a production grade AC/DC power source able to deliver precise, pure AC/DC waveforms by easily programming steps.
For function, the 61600 series generates a very clean AC output with typical distortion less than 0.3% at full load (50/60Hz, linear load). With the built-in power factor correction circuit (PFC), the 61600 series yields higher efficiency and delivers more output power. The power factor of its input can reach above 0.98 with full load.
Using advanced DSP technology, the 61600 series offers precision and high speed measurements such as RMS voltage, RMS current, true power, power factor, and current crest factor. Using the state-of-the-art PWM technology, it's capable of delivering up to 4~6 times of peak current verses to its maximum rated current. Units also provide an external analog input to amplify the analog signal from arbitrary signal generator.
For high power applications, the 61600 series provides a (Master-Slave) parallel operation function, which enables the user to increase AC power output (maximum 90kVA) by connecting AC sources in parallel.The self-diagnosis routine and the full protections against OPP, OCP, OVP and OTP ensure the quality and reliability even in the most demanding engineering and ATE applications.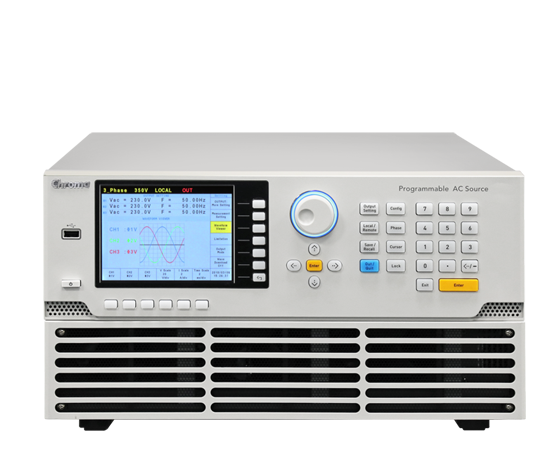 Programmable AC Power Source Model 61600 Series
Key Features:
Single-phase or three-phase output selectable
Programmable slew rate setting for changing voltage and frequency
Programmable voltage and current limit
AC+DC output mode for voltage DC offset simulation
Comprehensive measurement capability
One-key recall for different voltage and frequency setting
High output current crest factor, ideal for inrush current testing
Built-in PFC, provide input power factor over 0.98 (full load)
Analog input for power amplifier
Turn on, turn off phase angle control
Remote control by GPIB, RS232, USB and Ethernet interface