RSA7100B
The RSA7100B wideband signal analyzer offers real-time spectrum analysis up to 800 MHz bandwidth and simultaneous streaming of seamless data at full bandwidth. It enables researchers in communications, Radar and Electronic Warfare to create next-generations designs.
·         Unlike other "Real-Time" spectrum analyzers, the full line of Tektronix Real-Time Spectrum Analyzers is capable of simultaneously displaying frequency, time, and modulation domain displays, so you can analyze and measure RF signals faster.
·         IQFlowTM streaming to various hardware interfaces, plus a software API, provide the speed and flexibility you need to perform real-time DSP algorithms
·         Ideal for use as a drop-in system for RF capture, record and playback with 2+ hours of RAID memory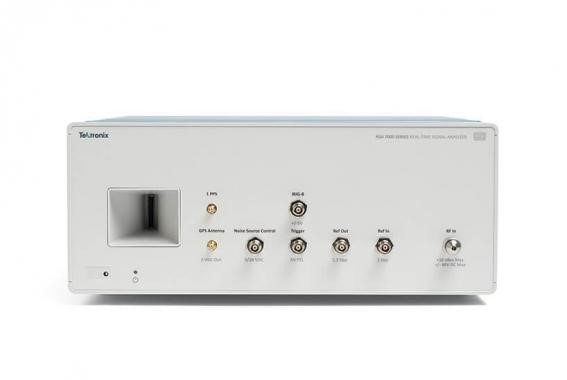 RSA7100B
Key features
16 kHz to 14/26.5 GHz frequency range
High performance spectrum analysis for advanced design verification with -134 dBc/Hz phase noise at 1 GHz, 10 kHz offset and typical amplitude accuracy of 0.5 dB at 10 GHz
Standard 320 MHz real time bandwidth; standard internal preamplifier to 3.6 GHz
Industry's best real time performance: 232 nsec for 100% Probability of Intercept at full signal level
Available 800 MHz acquisition bandwidth at frequencies > 3.6 GHz for advanced Radar, communications and spectrum management requirements
Industry-leading time-qualified triggers which enable capture of events at desired pulse widths > 10 µs, ideal for capturing dynamic test environments
IQFlowTM provides continuous streaming of IQ data at full 800 MHz bandwidth from the device to one or more clients, including LVDS, 40 GbE, and a software API that provides the speed and flexibility needed to perform real-time Digital Signal Processing (DSP) algorithms
Streaming capture to internal RAID of over 2 hours at full 800 MHz bandwidth enables environment recording and analysis of long event sequences
DataVu-PC software for analysis of recorded events of any length includes ability to mark events of interest, export waveforms to other formats and perform pulse analysis with export of Pulse Descriptor Word (PDW) information
Simultaneous streaming and real time analysis for live monitoring of recording events ensures you are getting the data you need
Efficient fast-frame capture with dead time eliminated optimizes memory and analysis so you can analyze longer test sequences
Standard measurements including channel power, ACLR, CCDF, OBW/EBW, spurious search and amplitude/frequency/phase versus time provide a complete toolset for development work
Internal GPS receiver, 1PPS and IRIG-B AM/DC are available for precise time stamping of events
Standard real time DPX(R) spectrogram technology lets you see short-duration signals on a color-coded display. See the transients and interference your conventional spectrum analyzer is not showing you.
SignalVu-PC vector signal analysis software provides a wide variety of analysis packages, including modulation, pulse, WLAN, phase noise, and frequency/phase settling measurements.
Applications
Advanced radar/EW design evaluation
Environment evaluation, monitoring, and recording
Wideband communications design
Spectrum management
Electromagnetic environmental effects (E3)
Military range testing and field operations