Telecom Transformer Test System Model 3312
The 3312 Telecom Transformer Test System is a precision test system, designed for telecom transformer production line or incoming/ outgoing inspection in quality control process, with high stability and high reliability.
The 3312 provides 20Hz-1MHz test frequencies. In addition to transformer scanning test function, the 3312 has LCR Meter function. In test items, The 3312 covers most of telecom transformer's low-voltage test parameters which include telecom test parameters as Return Loss (RLOS), Reflected Impedance (Zr), Insertion Loss (ILOS), Frequency response (FR), and Longitudinal Balance (LBAL) etc.; primary test parameters of general transformer as Inductance, Leakage I nduc t anc e, Turns -R a t io, DC re s i s t anc e, Impedance, and Capacitance (between windings) etc.; secondary test parameters of general transformer as Quality Factor and ESR etc.; and pin-shor t test function. High-speed digital sampling measurement technology combined with scanning test fixture (A132501) design, improve low-efficiency telecom transformer inspection to be more accurate and faster.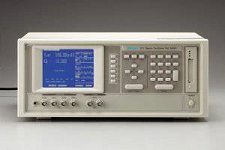 Key Features:

Includes most test items in telecommunication transformer inspection
Programmable frequency : 20Hz~1MHz, 0.02% accuracy
Basic accuracy : 0.1%
3 different output impedance modes, measurement results are compatible with other well-known LCR meters
Enhanced Turn Ratio measurement accuracy for low permeability core
ast Inductance/ Turn Ratio measurement speed up to 80 meas./sec
Fast DCR measurement speed up to 50 meas./sec
1320 Bias Current Source directly control capability
320x240 dot-matrix LCD display
Support versatile standard and custom-design test jigs
Four-terminal test for accurate, stable DCR, inductance and turn ratio measurements
Built-in comparator; 10 bin sorting with counter capability
4M SRAM memory card, for setup back-up between units
Standard RS-232, Handler and Printer interface, option GPIB Interface for LCR function only
15 internal instrument setups for store/recall capability