TTR500 Series Vector Network Analyzer (VNA)
The TTR500 Vector Network Analyzer (VNA) allows you to get closer to your measurements than ever before. Whether you are measuring reflection coefficients, impedance, admittance, return loss, insertion loss, gain, isolation or others, you can trust the TTR500 to provide insights not available in other industry instruments and from a single source. The TTR500 is perfect for filter measurements, antenna matching and tuning, amplifier measurements, and RF cable and connector measurements, just to name a few. See how you can use the TTR500 in your next project.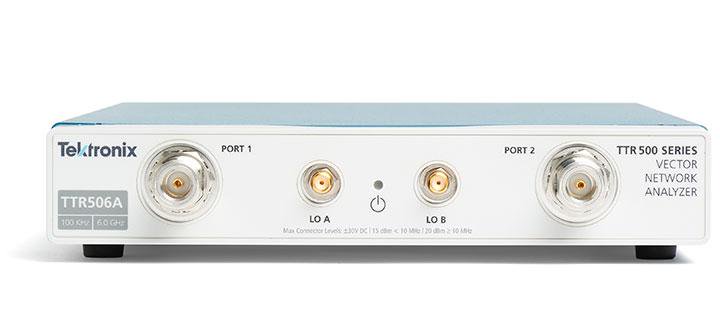 TTR500 Series Vector Network Analyzer (VNA)
Key performance specifications
100 kHz to 6 GHz frequency range
122 dB dynamic range
-50 to +7 dBm output power
< 0.008 dB RMS trace noise
Key features
Full 2-port 2-path S-parameter measurement (S11, S21, S12, S22) in a variety of formats.
Complete vector network analysis capability with Tektronix VectorVu-PC™ software.
Built-in bias tee accessible on both ports to bias active devices.
Application programming interface (API) for Microsoft Windows environment and LabView driver.
Robust SCPI command interface (compatible with current VNA models) to optimize code migration.
Touchstone file support (import/export) for use with Electronic Design Automation (EDA) simulation tools.
Offline simulation mode for analysis of S-parameter files when disconnected from the instrument.
Industry-leading three year warranty.
Applications
Antenna matching and tuning
RF component design and validation
Education