Wound Component EST Analyzer Model 19036
Chroma 19036 is the industry's first Wound Component Electrical Safety Test (EST) Analyzer that combines the functions of impulse test, hipot, insulation resistance and DC resistance measurements. It has 5kVac/ 6kVdc high voltage output, 5kV insulation resistance, 6kV layer short impulse voltage and 4-wire DC resistance measurement that can comply with the wound components test demands by providing maximum 10 channels output for multichannel scanning tests to save time and labor costs.
The test items for wound components include AC/ DC hipot test, IR test, IWT (Impulse Winding Test) and DCR (DC Resistance). Chroma integrates the above tests into 19036 Wound Component EST Analyzer that can perform safety tests on wound components like motors, transformers and solenoid valves to verify their quality.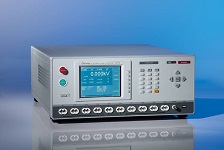 Key Features:
5 in 1 (10 channels) composite analyzer(ACWV / DCWV/ IR / Impulse / DCR)
Hi-pot test
- 5kVac / 6kVdc
- HSCC( High Speed Contact Check)
- 500 VA output
Insulation Resistance test
- 5kV Max.
Impulse Winding Test (IWT)
- 6kV impulse voltage
- High sampling rate (200MHz)
DCR measurement
- 4-wire DCR measurement
- △ / Y motor winding calculation
Support max. 40 channels scanning test
English, Traditional Chinese and Simplified Chinese User Interface
USB waveform storage& Hard copy function
Graphic color display
Standard LAN,USB,RS232 interface
GFI (Ground Fault Interrupt) for body protection