Power Meter ML2438A
The ML2437A Power Meter combines the advantages of thermal meter accuracy, diode meter speed, and peak power meter display graphics. The result is a single instrument that samples at more than 35K per second and achieves 90 dB dynamic range with a single sensor. This meter includes graphics display capability as a standard feature. The ruggedized housing and optional high-capacity NiMH battery bring laboratory quality accuracy to field service applications. ML2438A has two inputs.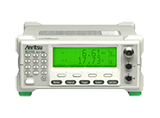 Power Meter ML2438A
Features
Speed and dynamic range
Fast thermal sensors
GPIB speed
GPIB emulation
Triggering controls
Burst profile graphics display
Power vs. time graphics display
Parallel printer connector
Specifications
90 dB dynamic range
Typical communications industry ATE systems operate over a 60 to 80 dB dynamic range. The MA247xD Series' 90 dB dynamic range replaces two 50 dB sensors. Further an RF switch is no longer needed for the two sensors. This reduces software control complexity and further speeds test execution.
Sensor EEPROM
All MA24xx Series sensors are equipped with internal EEPROMs for storage of calibration factor data vs. frequency. This allos the power meter to interpolate and correct readings automatically, improving accuracy and convenience.
High reliability
Rugged poly-carbonate chassis design handles drop shocks and rough field treatment. No vent holes are present, thus the meter is splash resistant. A front cover panel and softcase are optional for further environmental protection. Power sensors are also ruggedized for rough handling.
Improved accuracy
Mismatch uncertainty is typically the largest source of error. The MA24xx Series Power Sensors offer a typical 5 to 6 dB improvement in sensor return loss, typically cutting mismatch uncertainty in half. The MA244xD series High Accuracy Sensors incorporate a matching pad which further improves return loss by 5 to 6 dB - again halving mismatch uncertainty.
Offset table for path loss correction
Compensating for the true frequency response of attenuators, couplers, cables, switches and other test setup devices improves measurement accuracy. For this reason, the ML2430A Series can apply an offset table of attenuation-versus-frequency in addition to the traditional fixed dB offset capability. When a power sensor connection is preceded with a new 1N series wideband power limiter, the offset table compensates for frequency response. Thus, the combination achieves an accurate, "burnout-proof" sensor.
Softkey menu control
Softkey menus simplify instrument control by making the user interface easier to understand. The numerical keypad simplifies the operator interface.
Battery
The optional NiMH "Smart" battery supports high charge density for a typical 8 hour day of operation. Accurate fuel gauging, <2 hour fast charge cycling, and the elimination of NiCd style memory effect fur-ther enhances the convenience of this battery technology.
Voltmeter
The ML2430A Series also supports high speed voltage measurement. A rear panel BNC measures voltage or operates as V/GHz input supporting automated sensor calibration factor correction.