16CH Battery Cell Simulator Model 87001
Chroma 87001 Battery Cell Simulator is a highprecision, programmable, and bidirectional DC power source with both voltage source and current source functions. In addition, the model can be used as a multi-channel DC power supply or an electronic load as well. A single simulator has 16 channels and each of them can set voltage and current respectively via Chroma software.
The Chroma 87001 Battery Cell Simulator can be used in place of lithium-ion batteries to provide a reliable and safe testing environment. The equipped battery management system (BMS) and its subsystems can test the battery cells used in electric vehicles and energy storage batteries, etc.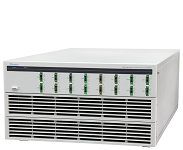 Key Features:
Operating mode: CC/CP
- Channel power: 25W
- Channel voltage: 5V
- Channel current: 5A (parallelable)
Bidirectional power supply design
Serial and parallel connection function
480-cell battery pack voltage simulation ability (connected in series)
High precision current and voltage measurement
2 current ranges for selection per channel
Current sharing design for parallel operation mode
Fast voltage setting for rise/fall speed: time (1ms)
Switch fast charge and discharge current in current source mode without any interruption
Low output noise
Independent channel over-voltage, current limit, and over-temperature protection
Standard Ethernet control interface
CE certification granted
APPLICATIONS
BMS (Battery Management System) testing and verification
Power tools production tests