Battery Cell Formation System Model 17000 series
Chroma 17000 series is specifically designed for the formation of Lithium Ion and Lithium Polymer secondary batteries. The 17000 series is a complete turn-key system, including carrier trays, robust battery probe contacts, high quality charge/discharge modules and intuitive software all under computer control.
Patented Battery Voltage Tracking (BVT) DC-DC conversion power modules minimize power consumption in battery charging, and Energy Recycle Modules (ERM) recycle the discharged energy directly back to the DC power system for increased power efficiency. These power saving designs provide a planet friendly solution along with cost savings by reducing energy consumption.
The intuitive software provides a flexible selection in the charge/ discharge channel, current rating, and modules under test. These features allow the Series 17000 to be used for final cell development, pilot line production, high volume production and ongoing reliability monitoring/quality control.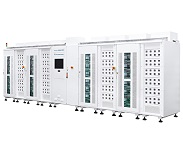 Key Features:
ERM (Energy Recycling Module) recycles discharged energy
BVT (Battery Voltage Tracking) reduces power consumption while battery charging
Energy savings monitor: tracks kW, kWh, reduced CO2 or plated-tree display
Plug-in module design simplifies service and maintenance
Real-time outer-loop resistance check
System safety/test reliability through PLC/IPC monitoring of all sensors (temperature, smoke, device type and battery tray position)
Systems are linked as a LAN offering remote monitoring and control
Automated handling and sorting available