Programmable Temp. & Humi. Chamber (CP)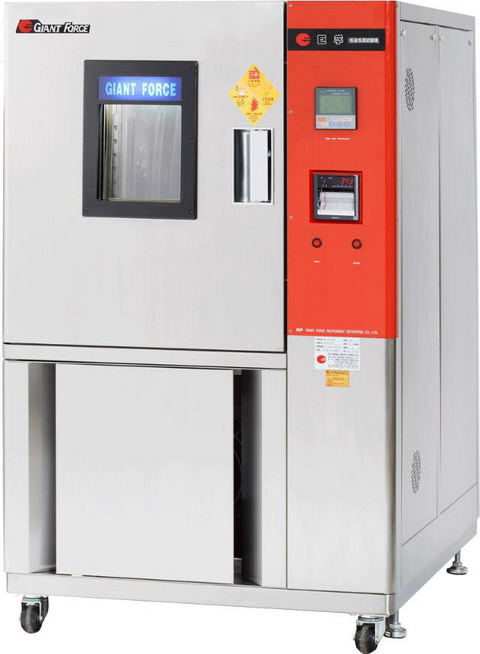 System Capacity:It could sign in 150 programs × 1500 partitions, partitions can be optionally divided and programs can link up to each other.
Loop configuration:9999 × 999 looping time, can be divided into 5 independent sub-loops.
Output:Intelligent PID+SSR/SCR two-way synchronous output, built-in advanced slope control logic.
Data:Touch panel dialogue box display, easy operation, built-in management system of data content.
Curves drawing: When temperature, humidity and times are set up, the data can be immediately transferred into curves, actual operating curves can be attained during operations.
Time signal:3 time series control output interfaces work with 10 time control modes to execute start/halt time series planning of external components.
End temperature:At the completion of testing, you can choose to return to the normal atmospheric temperature for removing the test objects.
Safety Check:The full- functional detection system consists of 15 check items to ensure the safety of the machine. Auto-display of items, error times, and trouble-shooting instructions.
Error Tracing:Historical fault reports can be displayed, such as the reasons and occurring time record.
External Protection:Electronic over-temperature protection device is separated from the master control panel for setting the upper temperature limit of the tested object.
Communications Interface:Standard RS-232 and RS-485 interfaces can link to multi-PC for network administration and control.
SD Device:Optional SD Device can be used to replace the conventional expensive paper-feeder recorder. With the self-diagnosis function, internal recording can be optionally selected.
Optional Accessories:
SD Device.
Low Humi. Dehumidifier.
Inner Door With Operating Ports.
Temp. / Humi. Recorder
Reverse Osmosis Water Purifier
RS-485 interface can link to multi-PC for netword administrator and control.(MAX:30 set)
Software for record data.
LN2/LCO2 fast-cooling System.