Battery Cell Charge/Discharge Test System Model 17011
The Chroma 17011 Battery Cell Charge and Discharge Test System is a high precision system designed specifically for testing lithium-ion battery (LIB) cells, electrical double layer capacitors (EDLC), and lithiumion capacitors (LIC). It is suitable for product development, quality control, and is helpful to characteristic research, cycle life testing, product screening, and quality assessment.
The Chroma 17011 has linear circuit and regenerative AC/DC bi-directional models for different applications. The linear circuit test systems feature extremely low output noise and high measurement accuracy and are applicable for testing small and medium sized energy storage components. The regenerative bi-directional test systems with high efficiency, power saving, low heating, and stable measurement capabilities suit testing medium and large size energy storage components or power type battery cells and fit green energy low carbon emission production.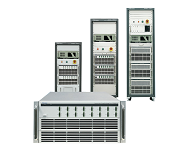 Key Features:
High precision output and measurement up to 0.015% of full scale
Fast current response up to <100 μS
High sampling rate up to 10 mS
Flexible sampling recording (Δt, ΔV, ΔI, ΔQ, ΔE)
Channel parallel output function with maximum 1200A output
High efficiency charge and discharge with low heat
Energy recycling during discharge (AC/DC bi-directional regenerative series)
Waveform simulation function (current/power mode)
Built-in DCIR test function
Built-in HPPC test function
Built-in EDLC capacitance and DCR test function
Operating modes: CC / CP / CV / CR / CC-CV / CP-CV / Rest / SD test
Multi-level safety protection mechanism
Integrating data logger and chamber
Applications:
Electric vehicle
Electric scooter/bike
Energy storage system
Power tools
Quality inspection agency
Academic research