2 Zone Thermal Shock Tester (Air To Air)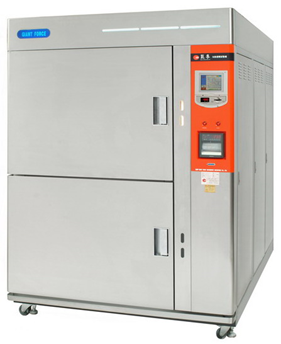 2-Zone System by Means of Vertical Movement of Specimen.
Color touch panel was made in Japan can switch Chinese / English display. Powerful function and setting easy.
Have paperless record and can display testing curve immediately.
Pneumatic basket movement design to move specimen safety.
Mechanism transfer time within 10 second can complies with MIL, IEC, JIS and other test standards.
Equipped with superior temperature recovery performance.
Optional Accessories:
Temp. Recorder
LN2 fast-cooling system.
RS-485 interface can link to multi-PC for network administration and control.