Battery Pack Auto Test System Model 8700
In order to increase testing coverage and the efficiency of the power storage battery industry, Chroma ATE has developed an automated inspection system that can be applied to the EOL (End Of Line) of battery packs production for testing the assembly defects, Battery Management System (BMS) communication, internal power switches, battery balancing circuits/consistency, and temperature distribution, etc. before battery packs are shipped out of the factory.
The comprehensive PASS/FAIL tests can not only be used in production lines, but may also be used in a development phase nearing completion or used during battery pack acceptance inspection for EV or energy storage station.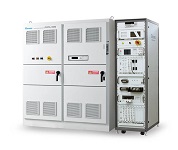 Key Features:
Specifically designed for battery production line, or battery development testing.
The application range of this system includes battery modules for electric vehicles, motor vehicles, and power storage systems.
Increases QA efficiency by up to 80%
Inspection of BMS functions, connector withstand voltage, consistency, and performance of battery module.
Charge/discharge power range: 5kW ~ 350kW.
Charge/discharge voltage range: 0V~900V.
Charge/discharge current range: 0A~1000A.
Standard test items include insulation resistance, electricity, software/communication, and battery performance testing.
Able to create the fixture to connect the customized battery module with automated switch control
The control system is easy to use open software platform that can support shop floor control could integrate with Manufacturing Execution System (MES)
Standard function test items:
Isolation Test:

Terminal(HV+, HV-) insulation resistance
Ground isolation
Shield impedance
Hi-Pot test

Electrical Test:

HV interlock fuction test
Max. and Min Voltage/Temperature range test

CAN Communication Test:

Cell and Pack voltage/Temperature
Contactor characterization
Diagnostic trouble and fault mode test

Performance Test:

Standard charge/discharge capacity test
Drive profile cycle test
DCIR / OCV test