Regenerative Battery Pack Test System Model 17020E
High frequency sampling measurement technology
Generally, battery chargers/dischargers use software to read current values for power computing; however, limited data samplling speed colud result in large errors when calculating the dynamic current capacity. By increasing the V/I sampling rate and double integrating method, Chroma is able to provide capacity calculation with much higher accuracy. When the current changes, the data is not lost and the transmission speed is not affected.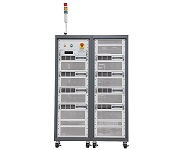 Key Features:
Charge/discharge modes (CC, CV, CP)
Power Range:

10kW/20kW per channel
30kW/40kW/50kW/60kW/70kW/80kW (Parallel)
Voltage Range: 60V/ 100V/ 200V
Current Range:
60V:180A/360A;per channel;720A (Parallel)
100V/200V:100A per channel;
100V/200V:200A/300A/400A/500A/600A/700A/800A(Parallel)

Regenerative battery energy discharge, efficiency 85%
Channels paralleled for higher currents
Driving cycle simulation
Fast current conversion without current interrupt
High precision measurement
Smooth current without over shoot
Test data analysis function
Data recovery protection (after power failure)
Independent protection of multi-channel