DLLY-DM1 Interphone and Access Control System Training Set
Security alarm and monitoring system is mainly composed of the security alarm and closed-circuit television monitoring system two parts.Among them. security alarm system safety technology as one of the most important security strategies, widely used in the warehouse, banking, insurance, library, office buildings, residential district and other engineering construction and civilian house construction field. And closed-circuit television monitoring system is according to the building security management need, real-time, effective video detection, video monitoring, video transmission, display and record the monitor sites, part, channel and have a warning and image check function.
"Security alarm and monitoring system training device " is comprehensive training device which elaborate designed based on current building electrical, building intelligence professional training content. The device combine with advanced technology and LONWORKS fieldbus technology of the current security areas, configurate many types of video camera (such as integration camera, the color video camera, etc), hard disk video recorder (video capture card), active or passive infrared detector, not only realize security alarm functions, and achieve image capture, transmission and control, image processing of closed-circuit monitoring system and display all content, the whole system is stable and reliable, easy installation, suitable for practice teaching.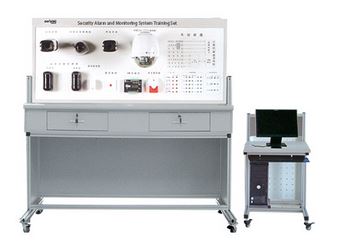 Product feature
The LONWORKS fieldbus that system used not only has advanced technology, and have more engineering application, have a high study value
The video sampling card video signal that system used represents the current monitoring scenic spot application of system can achieve image capture, image transmission, linkage control, image processing, image recording etc of closed-circuit television monitoring system. Function.
Advanced monitoring equipment: video capture card, a variety of types of cameras and LON controller, etc.
The whole system collect monitoring and security to a body, has great practical value
Input power:AC220V 士15% 50Hz
Envirement temperature:-20℃ ~+45 ℃
Capacity: < 1kvA
Dimension: 1500mm*700mm*1580mm
Security protection: with leakage automatic protection device.