DLSKN-Xmate230G Intelligence CNC trainer Milling Machine
The DLSKN-Xmate230G intelligence CNC trainer milling machine adopts industrial CNC milling system,X-axis,Y-axis,Z-axis are driven by servo motor and spindle motor is driven by frequency control. This device organically combines the machine's electrical parts with mechanical parts,it consists of CNC system,frequency conversion spindle system,electrical control panels,power control section,servo drives control and machine tool semi-physical simulation model,and displays all the action of the machine tool.
The device can complete a number of teaching and training such as CNC system installation, parameter setting, fault diagnosis and repair, assembly debugging,CNC programming and machining operations.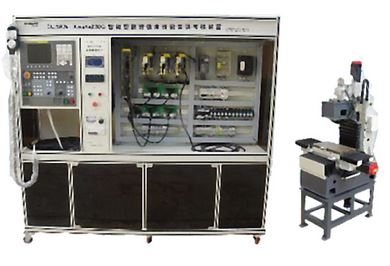 Total dimension: 1580×500×1630mm
Input power: three-phase, five-wire AC 380V±10% 50Hz/60Hz
Workbench movement stroke: X: 120mm, Y: 150mm,Z: 120mm
The maximum moving speed of the table: 3000mm/min
Maximum spindle speed: 1400r/min 25W
Milling machine semi-physical size: 939×740×1520mm
Capacity: < 5.0KVA