DLXNY-ST04 Solar Photovoltaic Power Generation Training System
Solar photovoltaic power generation training system consists of solar panels, off-grid inverter, solar controller, battery, AC and DC load, AC and DC voltage digital ammeter, artificial light, etc.,this system is designed to meet the demand of related training teaching of solar photovoltaic power generation applications of new energy professional in the higher education and vocational education.
Solar panels, intelligent controller and battery that the bench uses are the same as the field application.
Experiment table equipped with xenon lamp which glowing effect (spectrum) is the closest to sunlight to simulate the sun lightsource, so that the training programs can be carried out at any time, eliminate the restrictions of weather changes.
Equipped with two kinds of control modes: PV type and household type
Equipped with battery power storage system, it can be mains charging, form hybrid power supply system. Leave PV module upgrade port, and it can extraposition high power photovoltaic modules. PV modules can choose indoor place and outdoor modes.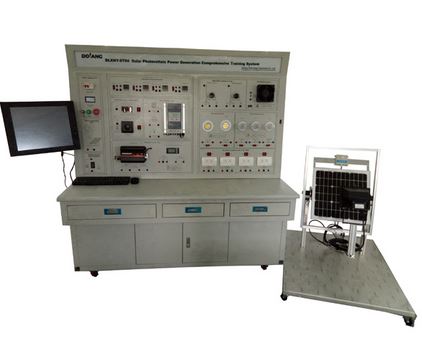 Total dimension: 1500×800×1750mm
Input voltage: AC220V±10% 50Hz/60Hz
Work environment: 0℃ ~40℃
Relative humidity: ≤85% RH