DLDJ-DSPM110 Servo Motor Training Equipment
DLDJ-DSPM110 Servo motor training equipment is to simulate engraving machines and marking machine workflow environment, reflecting the accurate positioning servo performance. Overall equipment from aluminum training platform,drawing board,servo unit, electrical and pneumatic devices and other components form. Control system consists of PLC module, the operation button module, the servo drive module, pneumatic module and various sensors and other components, according to the training needs for flexible combination of modules, installation and commissioning. Using the process required to mechatronics professional learning, such as those involved in motor drive, mechanical drive, pneumatic control, programmable controllers, sensors and many other application technologies, to provide students with a comprehensive training environment typical system, enable students to master the professional knowledge of a comprehensive, integrated and flexible application deepened consolidate.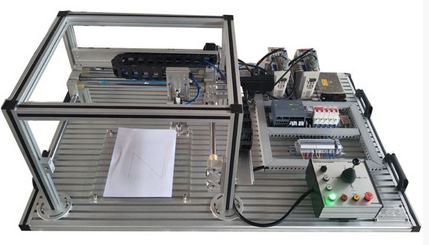 AC Power: Single phase AC220V ± 10% 50Hz;
Temperature: -10 ℃ ~ 40 ℃; Humidity: ≤ 90% (25 ℃)
The whole capacity: ≤ 1.5KVA
Air pressure: 0.4 MPa to 0.6 MPa
Drive Type: AC 220V, 400W servo motor
Dimensions: length × width × height = 1200mm × 750mm × 457mm
Safety measures: a ground fault protection, safety protection comply with the relevant national standards.
Air compressor is optional.