DLPLC-BT01 Frequency Control of Motor Speed Trainer
The device can complete "variable-frequency regulating speed technology" related teaching and training courses, particularly the system provides an open training teaching system, which fully develop students' practical ability.
The system consists of control panel,workbench, frequency converter component, relay contacts training module, digital analog input and output given instruction component, three-phase asynchronous motor, motor rails, speed mechanism and other components.
This system provides advanced operating platform for frequency converter technology training and assessment, it adopts Mitsubishi FR-A740-0.75KW frequency converter with RS485 communication interface.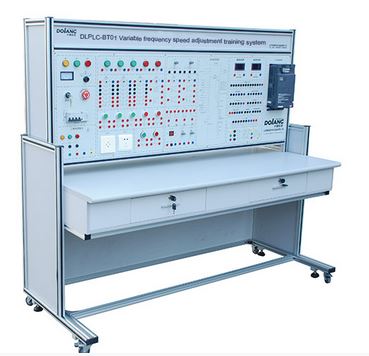 Total dimension: 1720×700×1500mm
Input power: three-phase, five-wire AC 380V±10% 50Hz/60Hz
Output power: AC 380V safety terminal output
Capacity: < 1KVA
Optional
Mitsubishi PLC module
Siemens PLC module
Computer desk