BeeWave Modular RF Prototyping and Education Platform
SBuilding RF PCBs has been a major barrier facing RF & Microwave circuit designers and educators. Complex design, costly fabrication and hard troubleshooting forced many designers to rely mainly on theoretical calculations and simulations leading to suboptimal designs and poor classroom experience.
BeeWave is a novel concept that allows users to build complete RF circuits with their own hands, from the comfort of their desks and with no special tools required. No longer will you need to worry about biasing, powering or matching complex tracks on your PCB, BeeWave acts like an RF breadboard where you just need to place and connect different modules (each representing an RF function) and let BeeWave worry about the rest.
Superior RF performance makes BeeWave an ideal tool for professional prototyping while ease of use , pre-built teaching configurations as well as PC/Matlab connectivity make it a perfect tool for teaching RF and wireless concepts hands-on instead of on a computer screen.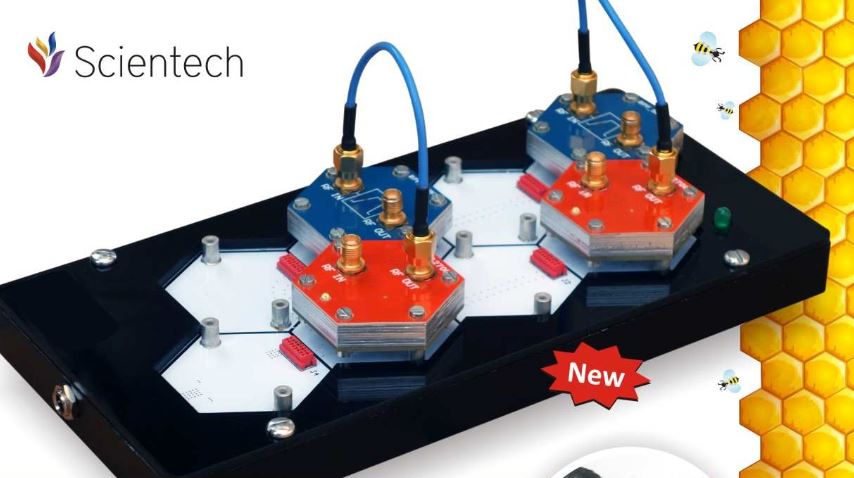 Readymade Plug & Play modules for typical RF functions up to 6 GHz
Connect modules & build complete RF circuits in a matter of minutes
Ideal for Hands-on education of RF & Microwave concepts
The fastest way to prototype, test & validate RF circuit designs
Build any RF & Microwave circuit without the need for complex RF PCB design and fabrication
Improve your design over multiple design iterations without the cost or delay of PCB re-fabrication