DLDJ-BJ2 Step motor training set
TDLDJ-BJ2 stepper motor control system is based on programmable logic controller as the core of industrial control integration technology, currently in institutions of higher learning has quickly developed into a new discipline, its content is rich in theory, there are a wide range of practice , both to exercise the abilities of students, but also to cultivate the students' innovative thinking has been formed automation, mechatronics, mechanical engineering, an important main course. About the Programmable Controller curriculum, supporting materials, practical aspects, laboratory construction and other aspects planning, to get the full attention of leaders at all levels and professional teachers.
Feature
Stepper motor through programmable controller sends pulses, stepper driver accepts pulse, drive stepper motor running, according to the Hall sensor signals collected and rotary encoder signals to achieve a variety of motion control.
Training System transmission machinery with aluminum components.
Electrically parts is composed of the PLC, switching power supply, sensor part, stepper drive module, stepper motors and other components.
Training sets using a special mold profiles, anodized coating processing, scientific structure, beautiful appearance, the bottom adjuster, height adjustable, to ensure a smooth degree; bracket aluminum structure (surface electrophoresis).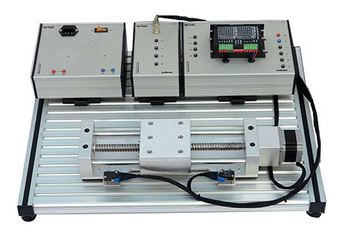 Input voltage: single phase AC220V ± 10% 50Hz;
Working environment: temperature range of -5 ~ 40 ℃
Installed capacity: AC <100VA
Safety Protection: overcurrent
DC: DC24V Power <3A
Ambient temperature: -10 ℃ ~ 40 ℃
Relative humidity: ≤ 90% (25 ℃)
Dimensions: length × width × height = 600 × 450 × 160
Screw stroke: 300mm Lead: 5m