Scientech-5002A Understanding Local Area Network (LAN)
Scientech TechBooks are compact and user-friendly learning platforms to provide a modern, portable, comprehensive and practical way to learn Technology. Each TechBook is provided with detailed Multimedia learning material which covers basic theory, step by step procedure to conduct the Experiment and other useful information.Understanding of Local Area Network (LAN) Scientech 5002A provides the understanding of all the fundamentals of networking. It helps the users to gain knowledge of all network layers, cable designing and building of a complete network of computers.
The users can understand and actually implement various topologies using different standards given by IEEE. Actual connections can be made in different topologies and data can be transferred. The users will understand the protocols, topologies used in networking, measurement of error rate, throughput and effect of errors on protocols. The versatile software provided with Scientech 5002A will assist the users to observe the various effects and configurations on a network along with the graphical representation.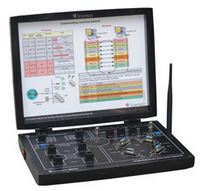 PC to PC communication with IEEE 802.3
Peer to Peer network
Client - Server network
Design of Star topology using 100Base-Tx
Design of Bus topology using 10Base-2
Design of Ring topology using DB9
Simulation of Distance Vectors and Link State Algorithms
Socket Programming exercise for LINUX
Encryption/Decryption Technique
User can send any file over LAN.
Detailed introduction to TCP/IP Model (4 Layer Model)
Video Tutorials for software operation
Creation of cables for network connections
Network design using RJ45 & DB9 connectors
Socket programming and processing
Wireless LAN with 803.11b/g
Network monitoring
Various LAN Protocols
Data rate up to 100Mbps
Variable packet size
Variable packet delay
Error generation (Manual and Auto)
Color coded real time graphical representation of entire transmission & reception
Graphical Analysis of LAN performance with various parameters and protocols
Save / Print option for graphs
User friendly software
Switch faults in both hardware & software
Exhaustive course material & references
On Board Touch Switch