DLDP-SX1 SCM Experiment Box
Through the portable SCM trainer can complete the single chip microcomputer interface expansion, data acquisition, data display, keyboard control, timer, etc, and all the experiment. The experiment modules and experiment content that be set can fully meet the requirements of teaching outline.
Utilizing the above equipment and experimental modules, can be convenient to do a variety of experiments, including the most commonly used display, the keyboard, I/O, A/D and D/A, RS-232 bus experiment.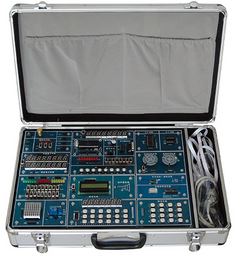 Input power: AC220V±10% 50Hz/60 Hz
Work environment:temperature -10℃-+40℃ relative humidity <85%(25℃) height<4000m
Output: DC stabilized power supply: 5V/2A,±5V/1A,±12V/1A