DLRB-541D Industrial Robots Candy Packaging Handling System
The production line system is a set of production, teaching, training, presentations and other functions in one of the intelligent robot package handling systems, to include logistics and packaging, handling, sorting and other industrial processes, covering electrical control technology, industrial robotics, programmable controller technology, modern network information management technology and many other technologies; applicable to all types of craft schools, colleges, vocational training institutions and other units of industrial robotics, industrial automation, mechatronics, electronics and information science and professional training and skills identification technology.
Its production process is not only helpful to the professional automation equipment of various types of electronic production lines, but also applied to multiple axis, six-axis, spiders and other types of industrial robots hand. We fully considered and integrated into the module, independence, compatibility, portability and other characteristics in the design. Give full play to the use of professional and technical personnel the ability to create demand for innovation, teamwork and other comprehensive vocational ability. At the same time, the device can meet the different levels of teaching and training of skilled personnel, the various needs of different levels and types of skills assessment to identify different levels of skills competition, school units to maximize equipment utilization.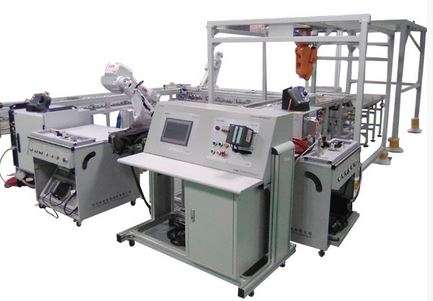 Power supply: three-phase five-wire 380V ± 5% 50HZ
Security: leakage protection, overcurrent protection, fuse protection
Robot Parameters: axis, six-axis parallel industrial robot
Ambient temperature: -10 ℃ ~ 50 ℃
Relative humidity: ≤85%
Each module functions and configuration
handling / palletizing unit
unpacking and feeding unit
visual inspection and sorting integrating unit
The automatic packing unit
U conveyor belt