DLLY-DM1 Interphone and Access Control System Training Set
" DLLY-DM1 Interphone and access Control System Training Set " use computer technology, network technology, integrated wiring technology, organic unifies the interphone, access control in together, on the basis of unified layout, put the functional modules division. The control part all adopt the physical, the control object use domestic advanced talkback system, flexibility to finish all kinds of simulation building interphone, entrance guard system operation demo, the system Settings, circuit design, line fault judgment, and elimination training. Help students to master the advanced achievements, and give full play to students' imagination.
System can realize the function: visible interphone mixed with the non-visible interphone, and can realize the call, and the intercom, surveillance, password lock, swarping card unlock, remote control unlocking, home to call the police, alarm time display, credit card information, alarm information automatic storage, and other functions, the most important is it has interconnected function with community management center, can realize the community networking management.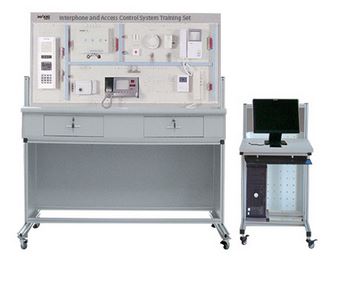 Product feature
Realizing the computer technology, network technology, the intercom and access control organic union
The system open, flexible connection
With the PC management software, can achieve more information sharing between hosts
The input power: AC220V 士15% 50Hz
The environment temperature:-20 ℃ ~ + 45 ℃
Device capacity: < 1 kvA
Appearance size: 1668 mm x 805 mm x 1484 mm
Security protection: with the leakage automatic protection device