DLFA-MAS-M Factory Automation Manufacturing Training System (Modular)
DLFA-MAS-M type library manufacturing factory automation training system simulate the process of industrial field environments, for different types of workpiece machining detection and automatic sorting the storage of training systems. In this system, you can using optoelectronics, capacitor and other sensors to achieve the detection and identification of the work piece, and then the sorting mechanism system will sort the materials into the settled area.
The equipment is made of aluminum alloy platform, feeding unit, drill unit, pushing unit and sorting unit and other components composition.
The control system adopts modular methods, which made of PLC module, simulation module etc. You can combine and testing accord to your demand.
The equipment can teach the knowledge of PLC control, sensor testing, pneumatic components, mechanical structures, etc. to provide a comprehensive training environments for student to learn the comprehensive, integrated and flexible application thoroughly.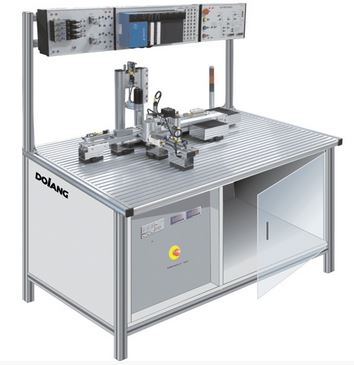 Total dimension : 1200×750×1300mm
Input power : single-phase,three-wire AC 220V±10% 50Hz/60Hz
Capacity : < 500VA