Three-Phase Asynchronous Motor Auto Transformer Starter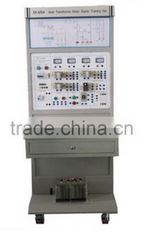 1. Product overview:
Auto transformer reduction voltage starting is to reduce motor stator winding's starting voltage using the auto transformer when the motor started. After that, make the motor and auto transformer separated and thus to make it normally working in a full voltage.
2. Working conditions
2.1.Power supply: AC380V 180W
2.2.Working environment
     Occasion: Try to avoid of dust, oil fog and other corrosive gas
     Working environment: 0~+50°C
     Storage temperature: -20°C~+80°C
     Humidity: 40~90%RH