Scientech-2139 Understanding 4G VoLTE Smart Phone
TechBook Scientech 2139 Understanding 4G VoLTE Smart Phone is a unique, self contained, easy to operate, training and development platform that demonstrates the complete study and working of a 4G Dual SIM VoLTE handset to understand the fundamentals of Smart phone.
Scientech 2139 is an ideal product for today's global technical professional. One of the main features of this TechBook is its real time operation and observation of signals/voltages. This TechBook introduces the user to the fundamental of 4G Dual SIM VoLTE mobile equipment and clears the concept underlying VoLTE technology in simple way. The touch screen display, SIM sockets and user interface section of Smart Phone i.e. Vibrator, Buzzer, Microphone, Speaker, Hands free port and camera have been exposed onboard with switched faults creation facility and test points for signal study. Another attractive feature is that user can make android application and IoT related application development. Its enriched product tutorial containing useful technical information will help user in creating a full understanding of 4G Dual SIM VoLTE Smart Phone.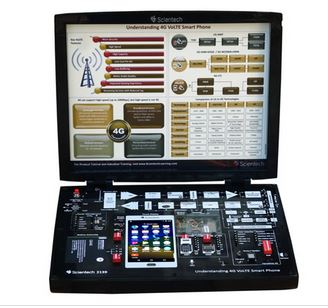 Real time study and operation of Smart Phone
Supports to 4G VoLTE (Cat 4), 3G (UMTS/HSPA+), 2G (GSM/EDGE) Networks
5" Touch screen full HD display
Full understanding of 4G Dual SIM VoLTE Smart Phone working principle and signals
Complete block diagram of a 4G Dual SIM VoLTE Smart Phone on-board
Easy identification of different parts and components of the system at a glance
Easy measurement of voltages and observation of waveforms on test points
Soldering free fault creation and troubleshooting
Android based application development