DLFMS-1700B Modern Industrial Production Assembly Training System
Industrial 4.0 enable world industrial development enter into the new stage featured as emerging technologies like the Internet of things, mobile Internet, big data and cloud computing.
We provide intelligent manufacturing environment which is completely consistent with the real factory—DLFMS-1700B Flexible Manufacturing System,students are able to experience real factory environment at school, by self-assembling, programming, debugging complete the workpiece "orders - distribution - processing - assembly - testing - recognition - warehousing-logistics" customized manufacturing processes, focusing on cultivating students' practical ability, programming ability, comprehensive qualities such as production line inspection and maintenance capabilities.
DLFMS-1700B flexible manufacturing system have a series of hardware and software like robot, central processing equipment, robot slide guide rail, conveyor belt, smart cameras, servers, control software and service software. System uses advanced control strategies and service software, integrated with hardware to achieve intelligent communication and collaboration of people, processing parts and machines.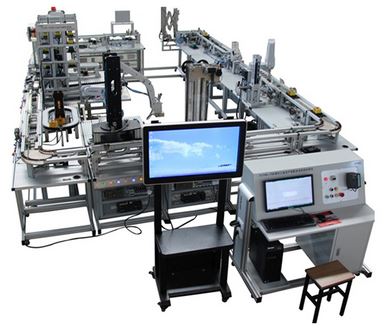 Input power: AC 220V±10% 50Hz/60Hz
Leakage protection: I △ n ≤ 30mA, t ≤ 0.1S
Control power: DC24V Accident emergency off button, Power supply, power supply indicator mistake on electric power protection
Working environment: temperature -10℃~+40℃ relative humidity 35% ~ 65%(25℃ ) elevation < 4000M
Capacity: ≤ 5kVA Air pressure range: 0.4 ~ 0.6Mpa
Total dimension: 7000×3750×2200mm, Under the table height: 750mm