DLFMS-8000 Flexible Manufacturing System
This system is divided into eight stations: console unit (PC management unit), automatic storage unit, manipulator handling unit, automatic processing unit, visual testing unit, heat treatment unit, automatic sorting unit, circular transmission unit. It can complete the overall process of processing, testing, heating, cooling, sorting, storaging the workpieces. Truely representation of the actual industrial manufacturing process.
The system has the PC self-control management system, that is industrial automatic control network which use PC in industrial manufacturing field.
Management computer screen shows the scene of the industrial simulation images, it is convenient to set or change parameter; record the data and form reports automatically, easy to query and print. Overrun parameters automatically generated alarm information to facilitate timely maintenance; observation and analysis the key parameters through curve window, realtime monitoring equipment or process parameters.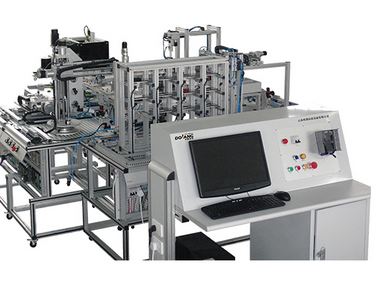 Total dimension: 4100×2400×1450mm
Input power: single-phase,three-wire AC 220V±10% 50Hz/60Hz
Capacity: < 2KVA