DL-JLJC-01 pressure temperature level and flow process control training system
In people's lives as well as many other areas of industrial production control problems are often related to temperature, pressure floe and level. Such as liquid storage tank household water supply, beverage, liquid filtration, chemical manufacturing and other sectors of the production process. DL-JLJC-01 pressure temperature level and flow process control trainer can simulate process control object of life and industrial production truly. It is designed for vocational and technical education, higher education and professional development of the PLC control training platform. The device is composed by PLC, temperature sensors, solenoid valves, touch screen. Switching and sequential logic control is completed by sensor signal acquisition, PLC programming, solenoid valves of pumps and PID closed-loop control is completed by touch screen for real-time monitoring and control equipment.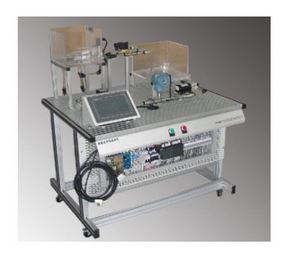 Modular design, easy to maintenance and modify
Industrial components of process control
Open hard control platform, easy to assembly and disassembly and debugging
Complete training content, program analysis, program implement, program summary and ability test
Technical parameter

Power supply:AC220V±10%, single phase, three line
Temperature: -10℃~40℃, humidity: ≤90%(25℃)
Total capacity: ≤1.5KVA
Protection: ground protection, leakage, overload and overvoltage protection.