DLWD-5A II Power Supply & Distribution on Duty Electrician Assessment Training System
The system can complete the training projects involving power distribution room with high & low voltage electrical equipment, monitoring and meter reading, power relay and relay protection, switching operation, a typical low-voltage electrical lines and other content. It can be used as power supply and distribution professional and related professional training equipment and power distribution on duty electrician training assessment platform of vocational schools, technical schools.
DLWD-5A Ⅱ power supply and distribution on duty electrician training systems includes high and low voltage distribution cabinet, analog control panel composed of a variety of distribution assessment circuit. 10KV high voltage uses 0.4KV voltage level to simulate, various electrical use the real original GG1A-12 high-voltage power distribution cabinets, it is closer to the industrial field.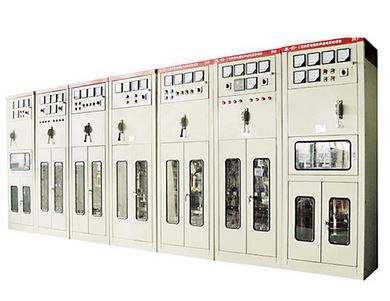 Rated insulation voltage: DC 660V
Rated working voltage: AC 380V
Rated operating voltage of auxiliary circuit: AC 380V 220V
Busbar rated current: 100A
Branch busbar rated current:10-16A
Total dimension: 5600×800×2200mm