Scientech-2204 Frequency Modulation and Demodulation Techniques
Scientech 2204 Study of FM Communication is a comprehensive learning solution specifically designed to provide conceptual and step by step understanding of Frequency Modulation and Demodulation techniques through observation of waveforms at various test points and measurement of parameters like Frequency deviation and Modulation index.
Block wise modular organization of functional circuits with symbolic representation makes it easy to understand the process of FM generation, FM detection and study of FM Spectrum. The exercises provide a practical approach to the subject and will guide the students to understand each function.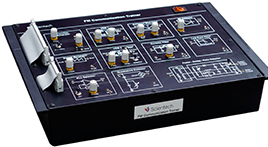 A self-contained platform on FM Communication
Functional blocks with symbols indicated on mimic
Onboard adjustable controls for various functional blocks
Compact size
Online Product Tutorial