DLPCS-YLMK Pressure Controlled Module
The DLPCS-YLMK pressure controlled module is a panel-mounted ready-to-install element. In conjunction with other modular control components, it enables pressure control systems with different characteristic features to be constructed and investigated.
The panel is mounted on the frame of the base module DLPCS-JCDYP. DLPCS-YLMKconsists of two steel pressure tanks and is operated with compressed air as the working medium. Each tank is fitted with a manometer and a safety valve. One tank also has a drain valve. Both tanks can be fitted with a pressure sensor. The tanks are interconnected by a vent valve and can therefore be connected in series. This makes it possible to represent both first and second order pressure control systems.
The DLPCS-JCDYP base module supplies the controlled system module with its working compressed air. Pneumatic hoses with quick-release couplings connect all the modules to a pressure control loop.
.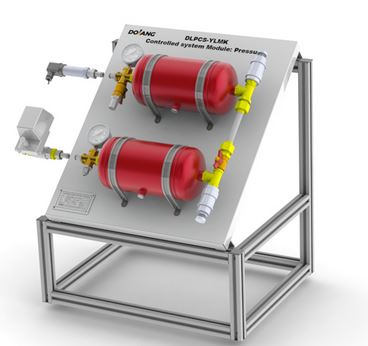 ambient temperature: -10 ℃ ~ 40 ℃ Humidity: ≤90% (25 ℃)
Dimensions: 500x180x600 mm (length × width × height) IV Basic configuration