Scientech-5001 Data Communication Techniques
Scientech TechBooks are compact and user-friendly learning platforms to provide a modern, portable, comprehensive and practical way to learn Technology. Each TechBook is provided with detailed Multimedia learning material which covers basic theory, step by step procedure to conduct the experiment and other useful information.
Data Communications and Networking are one of the fastest growing segments today. The major reason for this growth is the dramatic increase in Networked offices, PC-based products and internet users. More Students are taking courses to learn about them.
Scientech 5001 is designed to assist Students and practitioners to understand the various methods of exchange of data between two devices.
It is designed to be user-friendly and it supports self-learning through a flexibility of making the connections by the user itself. For a proper understanding of various protocols in serial and parallel communication, various experiments can be performed. In depth knowledge of ports and its functional details can be studied with the use of the supporting software provided. Manuals and notes help the user to understand the major terminologies and theory related to Data Communication.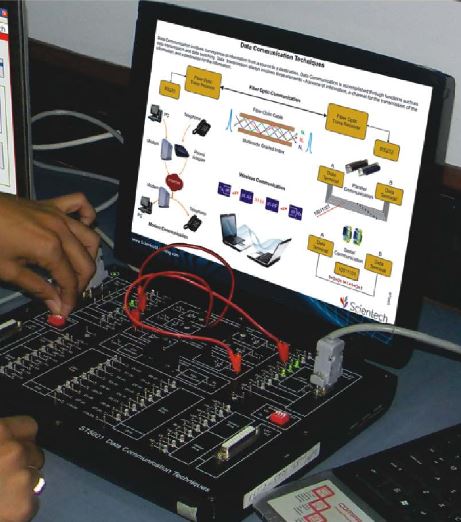 Pin to pin study of serial and parallel port
Different methods of serial communication
Different methods of parallel communication
Wireless communication (IR/RF)
Full duplex fiber optics communication
FSK modem communication
Software & hardware based data flow controls
Protocols of parallel port
Protocols of serial port
High speed data transmission
Visual indication by LED`s for displaying data, status & control pins of port
Printer interface
Windows based operating software
Switch faults in both hardware & software
Exhaustive course material & references
Student friendly software
Optional application boards for serial and parallel port
On Board Touch Switch