DLJX-JXXT Mechanical Comprehensive Training System
Training sets uses desktop structure, and it adopts industrial grade components, training device can complete training such as belt drive, chain drive, gear drive, lubrication, shaft concentricity adjustment, bearings, ball screws, gaskets and seals, clutches and brakes.
Training sets include various pulleys, sprockets, gears, belts, single-row and multi-row transmission chain, a variety of couplings, shafts, bearings, ball screws, clutches and brakes etc. The training equipment includes transmission structure components which are widely used in industrial production, full range, modular design, and it is easy and flexible to use.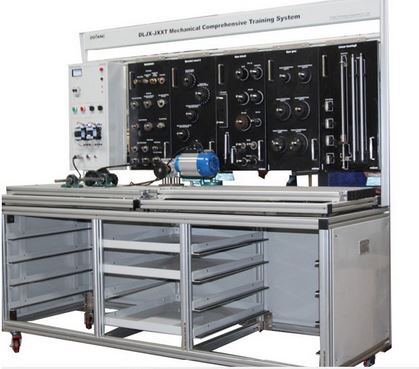 Input power: single-phase,three-wire AC 220V±10% 50Hz/60Hz, three-phase,five-wire AC 380V±10% 50Hz/60Hz
Work environment: temperature -10℃ ~ 40℃ Relative humidity≤ 85% (25℃ ) elevation≤ 4000m
Total dimension: about 1845×700×1700mm
Safety protection: Has the leakage voltage and leakage current protection, security in line with national standards