DLDS-500AR Modular Flexible Product Line System Training System
DLDS-500AR is a modular flexible product line training device include Crawl station, punching station, assembly station, industrial robots handling station, stacking station, board, logic simulation box, PLC control box (choose different types of programmable controllers), the operation panel, touch screen installation boxes, control cabinet, I / O adapter board.Flexible product line can complete 3 material's Crawl, stamping, assembly, industrial robots handling, storage, etc. reclassification series of actions,this flexible product line can exercise student's Systems thinking ability,Strengthen the students hands-on, minds, "real knife real gun" to complete the installation of the mechanical assembly, assembly of pneumatic components, electrical components of the stations, circuit wiring, electrical adjustment of the position of each cylinder, setting the technical parameters of the stepping motor, PLC programming, sensor technology, the technical application of electronic technology in the professional field.
Each station of the system is mounted on an aluminum plate with grooves, each station can be easily connected together to form an automatic production line. The station from various forms of modular structure, easy to set up between the various modules, disassembly and maintenance, can be freely combined between each workstation.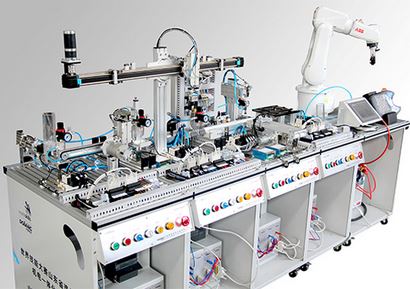 Cabinet main circuit power supply: single-phase AC220V ± 10%, 50Hz
Robot Model IRB120 / 3KG / 0.58
Cabinet control circuit power supply: DC24V
Temperature: -10 ℃ ~ 40 ℃; Humidity: ≤90% (25 ℃);
Single Station Dimensions: see table
Air pressure: 0.4 ~ 0.6Mpa
Machine capacity: ≤5KVA