DLLY-DM1 Interphone and Access Control System Training Set
DLLY-FB1 Security alarm system training device"is comprehensive training device which elaborate designed based on current building electrical, building intelligence professional training content. This training device combined with the latest technology of the guard against theft in the current security market, training content is rich. This device also includes various types of the police probe and the linkage equipment with the monitor, to make the teaching researchers comprehensively understanding and master of various application mode of the security alarm system , provide good teaching platform for teaching practice research security alarm technology. This training system can do all kinds of simulation security alarm system linkage operation demo systematic setting, programming, line design, line and judging and exclusion of setting fault, etc and training and training content.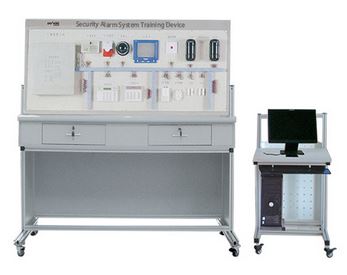 Product feature
The training device combined with the latest technology in the current security market, stability of the system is strong.
The device contains various types of alarm detector, and with cameras and other linkage equipment
PC software can achieve certain cloth removal function, can realize the group management
Input power: AC220V 士15% 50Hz
Envirement temperature:-20℃ ~+45 ℃
Capacity: < 1kvA
Dimension: 1668mm * 805mm * 1484mm
Security protection: with leakage automatic protection device.