DLSKB-C980TD01 Intelligent CNC Lathe Machine Skill Training System
The CNC trainer adopts GSK CNC lathe machine system,X axis,Z axis are driven by AC servo motors,spindle motor is driven by frequency control. This device organically combines the machine's electrical parts with mechanical parts,it displays all the movements of all the machine.And it is able to complete a number of teaching trainings like CNC system installation,parameter setting,fault diagnosis and repair,assembly debugging CNC lathes,CNC programming and machining operations.
Electrical control circuit includ short circuit protection ,overload protection, short circuit protection of all circuits.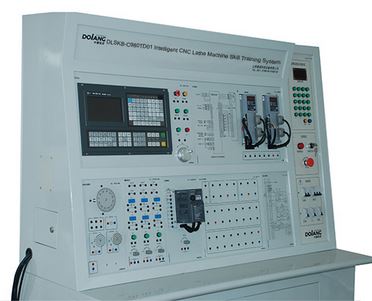 Working power supply: three-phase, five-wire AC 380V±10% 50Hz/60Hz
Total dimension: 1460×800×1700mm
Output power: AC 220V safety terminal output
Capacity: < 1.5KVA
Safety protection: Leakage protection (action current≤ 30mA)
Overcurrent protection: overload fuse protection