DLXNY-FN01 Wind and Solar Power Generation Training System
The wind power generation training system consists of : wind turbine,solar simulation system, aerovane, adjustable speed blower, charge controller,batteries, off-grid inverters, AC load and DC load, DC voltage meter head, AC multi-function meter head, auxiliary data monitoring and display module. Wide application experiments: experimental system offers a variety of application workloads, such as lighting, street lighting, DC fans, AC fans, smartphone charger. Unique PC data acquisition interface: the environmental temperature and humidity, wind speed, wind direction, speed generator, generator output current, voltage, power and other information is displayed in real time on PC, working status of the entire system for real-time monitoring.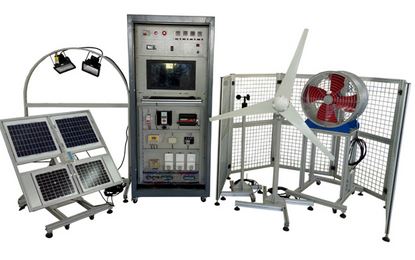 Wind driven generator Power: 400W Impeller diameter :1.65m Start-up wind speed : 2.3m/s

Cut-in wind speed: 3m/s Rated speed: 12m/s

Anemometer

Wind speed: 0~60M/S Wind direction: 0~360° Precision: 0.3M/S3°
Working power: AC 220V, 50Hz/60Hz , DC12V optional
Others: Over speed alarm, Less speed alarm, LCD display wind speed, communication port with PC

Air temperature and humidity sensor

Temperature resolution: 0.1℃ (16 bit) Temperature Range: -40℃ ~ +80℃
Humidity resolution: 0.1%RH(16 bit) Accuracy of humidity: 3%RH(25℃ ), 5%RH(0~50℃ )

Blower with djustable speed Air mass flow: 4670/h Air pressure:1275Pa-2138Pa Blower

Power: 5.5KW
Solar cell module is optional in this renewable energy training system.